Nowadays, graphic design opens up a valuable and considerable number of opportunities for businesses. The importance of designing is often underestimated, but a good piece of design can bring some significant business benefits.
In Marketing, a good design helps attract the right audience for your business. Moreover, it enhances the quality of your message and helps you tell your story with maximum impact. An awesome and attractive design not only helps in marketing but also helps in your business's growth.
Well, if you don't know the professional skills of a graphic designer, you can create beautiful images and graphics for your social media posts without any outside design help. You need to rely on amazing tools and resources to get your design job done.
Hence, if you are just a beginner to work with graphic design and are not in the mood to invest your money in such programs, the best option for you will be to use free graphic design software. 
In this article, we will know some of the free graphic tools that can be used for social media marketing;
Guide To Free Graphic Design Tools

1)
VECTR
Vectr is free graphic design software for creating various types of projects ranging from t-shirt print to full flash graphics for websites. This software has an easy & natural interface that allows you to export created files, and that in real time. It also allows you to exchange information between different types of devices, making the web convenient for team design. If you can't afford to buy high-priced vector programs, it is a decent software with about 30 tutorials on its website. You can watch them use the software, both online and offline.
 2)
ADOBE SPARK 
If you are looking for a perfect balance of minimalism and power in your design tool, use Adobe Spark. You can get access to a good number of professional templates sorted by design type (such as social media images, Facebook covers, posters), industry category, and size. You can customize these templates with Spark's easy-to-use tools. Adobe Spark provides you several basic filters to let you adjust your image. Spark offers several features such as changing the design layout or the entire template from one of the sidebar menus and offering preformatted text styles and designs, to let you browse with just a few clicks in the Text menu. This free tool provides a great way to get a fresh perspective on your design and lets your brand's social media feed look attractive and beautiful.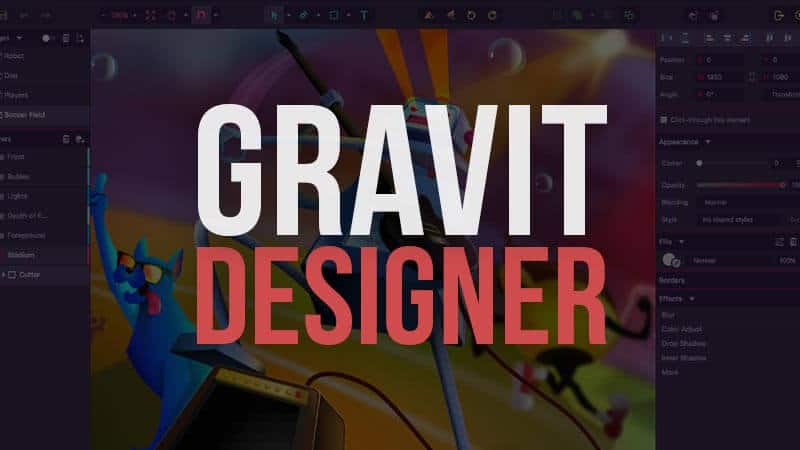 3)
GRAVIT DESIGNER
Gravit designer is considered one of the best graphic design software for beginners. It has a lot of features that are something between Inkscape and Vectr. Gravit Designer has everything that one expects from vector software. It helps you in creating curves, edit parts, manage layers, and use the Knife function. Also, it is supportive of SVG, PDF, JPG, sketch, and EPS formats for import and export. This software can also work on your projects on different platforms. Gravit Cloud provides a smooth transfer of files between desktop and online versions. It also has features of vector assets, including forms, emojis batches, and illustrations.
4)
CANVA
Canva is considered one of the best and favorite programs for social media graphics in the market today. It consists of universal tools, including presentations, email headers, and infographics for blogs. Canva is beginner-friendly and very intuitive. Additionally, it also consists of high-quality templates and drag and drops options. It is the best free online graphic design software if you are going to work with simple graphics.
5)
PABLO
Pablo, created by Buffer, the social media scheduling tool, has only a few features with one workflow. You need to choose a template or an image for your blank template. Moreover, Pablo's keyword search is appropriate and perfect, so you can easily pick an image for your project/post. You can choose from one of three sizes, made especially for Facebook/Twitter, Pinterest, or Instagram.
6)
SNAPPA
Snappa is famous for making polished, shared images quickly and easily. It includes a thorough template library. They are well-known for getting the background image just right. Snappa comprises a library of royalty-free images. Snappa has an effects sidebar that helps create perfect image effects for your project/post, which may include coloring or darkening the background image to create white text pop or brightening the image to highlight dark text. It easily edits your text from its sidebar, adjusting alignment, font, size, line spacing, opacity, and drop shadow effects. Snappa includes more than enough features to make your message stand out in the field of graphic design.
7)
DESYGNER
Desynger graphics are similar to Canva's quality. You need to start with a template for the social media network and build your design with its library of design elements such as shapes, icons, and royalty-free images. Also, you can create your collection of brand assets. Desygner doesn't skimp on features on its mobile app. You can use multiple menus to hyper-customize images and text settings. Desygner is a versatile tool for graphic design that helps create unique and professional social media images.
8)
CRELLO
Crello is used by marketers, bloggers, entrepreneurs, or small businesses to create content daily. It is an online graphic design tool that helps develop videos and graphic designs for social media posts, print, or any other web-based graphics. It offers a great collection of designed templates and video/photo content. You can start with one of 20,000 pre-loaded modern templates and add your brand elements with your images and texts. Additionally, you can upload free stock images, your images, backgrounds, and clipart. The best part of using Crello is that anyone can become a creator with no special training.
Now, before wrapping up this guide, here are final thoughts that will help you in making the right choice;
Availability of significantly more fine-looking templates, millions of premium assets, and photos to choose from for free.
You probably need a super-fast and stable editor without any lag
A wider range of features and integrations
Collaboration and sharing options
Multiple file formats to download your designs
If you have any other questions/suggestions for us, kindly feel free to leave a comment. Subscribe and we'll keep sending more valuable guides your way.