Since long back I was thinking to write something for you guys, and here I'm. Recognize me? It's Loyy… Loyy Woozer, yeah… a marketing head at interestingly boring studio 😉
So, let me share the story about one of my discussion on content strategy and some usual marketing myths.
Marketing, marketing, marketing…We just need to do the marketing of our brand anyhow. – said by an expert.
You must have heard this line "we are focusing on advertising and promotion by targeting the right audience…(no 'content strategy?')
Or you may have encountered with a famous myth "Oh! Really? After all of those advertising activities, why we have not found a boost in sales yet? After all, marketing is all about increasing sales numbers… right?"
At brainstorming, everyone was putting their gyaan (thoughts) on the table, like… If you want to implement effective marketing then you have to invest more in content such as brochures, visual ads, 24 hours customer response, etc…
I suddenly take a call to solve this matter before it converts into arguments.
Hey… Guys…Calm down.
With this, you will never find cold fusion. Don't be a victim of a series of myths. I mean common team, tell me one thing why do you want to spend a lot of chunk without having a strong strategy? It will never increase your ROI.
So what you think, advertising & marketing are different?
I said: Yes, advertising means promotions whereas marketing means enclose the products/services, strategy to meet customers' needs, promote to inform & solve their queries.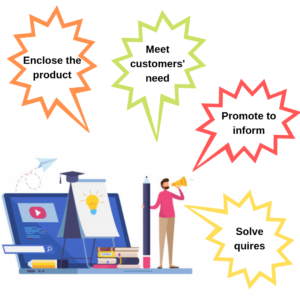 To hell, tell me who says highly paid ads make more ROI?
Highly paid marketing with no artistic view can't increase your ROI.
They asked: hmm, Any words for "Word of mouth", Loyy?
Me: In the current market scenario, it's essential to reach out to people with outbound communication, it spreads awareness about the brand. But, don't forget inbound, which grabs the attention by adding value to the end user.
Again: what about sexy sells?
Me with a sarcastic smile: Sexy not always attract a desirable atmosphere for products. With product/services we have to connect customers needs.
First rule of Marketing, know your customers. People don't care about your brand untill you use the story to invite them in. Talk about what "they want", not what you want.